Okay, it's a little embarrassing, but I'm gonna throw it out there. Ready for it?
I'm a loser.
Yes, you've read that correctly. I am a loser in so many ways. Let me explain.

Summer started on June 10th for us. My sweet son graduated Kindergarten and the chaos began. The planning of his birthday and a 3 week vacation all rolled into one. It sent my brain into over drive and there was no stopping it.
The first indication of my loser status started when I didn't finish my 29 Day Challenge. I joined. I gave. I lost steam. It lasted about two weeks before it was totally phased out. Life got crazy, my giving wasn't intentional anymore, but accidental if given. Should I re-start? I've been struggling with that question because, to me, giving is so important, but what if I don't go through with it..yet again? I'll feel the low's of a loser again. What if I just decide to be more giving with no guidelines? It's all so jumbled in my head.
Still not convinced I'm a loser? Well, check this out. On my vacation I didn't have much time to talk to my sweet friend that lives in Mississippi. I thought, well she'll understand and we'll catch up when I get back. That's all fine and dandy, but my second strike is looming and before I know it… WHOOSH! Her Birthday has passed and me being the giant loser, FORGOT! Yes, no email, no phone call, no card.. NOTHING! This isn't like me because if I still lived in Memphis we would have planned a night out, a lunch just the two of us at that cute French Place near my old house, and it would have been a week of Birthday fun. OH! She was hacked and the sweet gal she is didn't make much of a deal that I forgot, but I know it hurt her feelings.
Christina Marina Patina, I am truly sorry that I forgot your Birthday and I will make it up to you once I think of the most brilliant way to do it!

Alright, the true Loser Girl status came when I asked my 4 year old to get dressed. She asked me if I could pick out her clothes then sprinted away yelling, "Race you to my room! Loser is a rotten egg!" Well, first.. she got a head start.. NO FAIR! And second, well she's just faster than me. As I arrived in her room she says, "Mom, you're a LOOOO-SUH (Loser)!!" It really etched in my skin when I saw her fingers shaped in an "L" on her forehead and her hips in that "sassy shake" as she taunted me.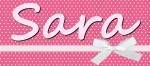 Sara Patterson has been blogging since 2007, but took a break for a couple years to tackle the world of news. She was the Social Media Director for a Houston based market 10 news station for over 2 years, but decided it was time to go back to her roots as a parenting blogger so she can spend more time with her family. She has now become an independent social media consultant for a variety of clients such as Hunger Free Texans and Downtown Galveston. Follow her personal Twitter account
@SocialNewsSara,
blogging account
@Family_Appeal
.
Latest posts by Sara Patterson (see all)