Zach: "I'm logged in."
My Brother: "I'm in."
My Sister: "I'm in. Sara! Are you in? Oh, no. You don't have a DS. Too Bad!"
Everyone: Laughs
How mean and evil is that?! My own family teasing me for not having a Nintendo DS. Everyone was playing Mario Kart on their DS against each other, but poor pitiful Sara doesn't have one. *Sigh*
Good thing I have a Papi that just loves me to death because after a morning of sleeping in (till 9:30, thank you) I awoke to Christmas in the middle of Summer!! YEAH! My parents woke up before us and headed over to buy this sweet gal my OWN Nintendo DS. PINK!
Next time I'm asked, "Are you in?" I can either A.) Smack someone on their head or B.) Log on and play too! Let's just wait and see if The Rude Man aka. my son.. leaves me alone long enough to play. Like that's gonna happen!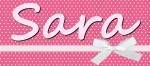 Sara Patterson has been blogging since 2007, but took a break for a couple years to tackle the world of news. She was the Social Media Director for a Houston based market 10 news station for over 2 years, but decided it was time to go back to her roots as a parenting blogger so she can spend more time with her family. She has now become an independent social media consultant for a variety of clients such as Hunger Free Texans and Downtown Galveston. Follow her personal Twitter account
@SocialNewsSara,
blogging account
@Family_Appeal
.
Latest posts by Sara Patterson (see all)