It's been 12 days since I last saw my Charlotte home. I am still on vacation in Texas and STILL loving it, but I gotta say… I'm tired. From the minute we wake up to the minute we lay down we're are going, going, going. It's a little crazy and it's catching up to all of us very quickly. The kids are getting whiny, grouchy, and plain tired. Their eating and sleeping schedules are off and it'll take weeks to get them back to normal. Did I mention that I will have to re-train them too?
Yup, too much time with Grandparents, Aunts, Uncles, and they haven't heard the the word NO in 12 days. You want that? OK. You need that? You got it! You can't live without the 20th candy of the day? It's YOURS!
In fact yesterday, I was talking to my sister and I said, "This trip has made me come to the realization that Abby is a little spoiled." Then I feel a tap on my shoulder and Abby, herself, says, "Mom. I'm A LOT spoiled." Hmm. Even SHE knows it.
As much as I'm enjoying friends and family I am getting anxious about getting these kids back into the reality of what they can eat, when they should sleep, and what the word NO means. Of course that is probably thrown out the window when we start traveling with Daddy on Business Trips.
We LOVE YOU DADDY!
We MISS YOU DADDY!
I also want to throw in a big HI to my Bloggy Friends. I miss my normal day to day blog writing and reading. And expects TONS of comments when I catch up later in July.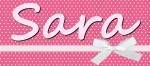 Sara Patterson has been blogging since 2007, but took a break for a couple years to tackle the world of news. She was the Social Media Director for a Houston based market 10 news station for over 2 years, but decided it was time to go back to her roots as a parenting blogger so she can spend more time with her family. She has now become an independent social media consultant for a variety of clients such as Hunger Free Texans and Downtown Galveston. Follow her personal Twitter account
@SocialNewsSara,
blogging account
@Family_Appeal
.
Latest posts by Sara Patterson (see all)