All my thoughts have kind of turned in to swirls of nonsense since I traveled 6 hours with these crazy kids. I only have about 10 more hours to go tomorrow and the switch off is on schedule. My sweet hubby is headed back to NC and we're hitching a ride with my sister and brother who were so kind to meet us in good ole' Alabama.
It's been a chaotic and tiring Father's Day, but I wanted to take the last bit of my energy to tell all the Father's in my life how much they mean to me.
Papa- You have been so great to me since I joined your sweet family. Having you as my father in law is nothing, but a blessing.
Papi- I can always count on you to be there for me no matter what the situation. You're always a phone call away and I love you with all my heart for all the sacrifice you've made for me to have the opportunities I've had.
Brian- What can I say? We tried to have a nice dinner.. uh..yeah..not so much. We tried to get you that Flat Screen T.V… uh.. yeah.. not so much. I hate that sometimes (okay most of the time) it's hard. Sometimes you don't have enough room to breath with these children. I hate that you love it all… because these kids are so hard to deal with, but your patience out shines mine in every aspect. You are such a great father and we love you more than words can describe.
Last, but not even close to being least…. My Lord, My Father. You hold me in your arms when I'm hurt. You hold me in those SAME arms when I'm happy. You are my Father and I wouldn't be the woman I am, if you weren't by my side each and every day.
Happy Father's Day Guys!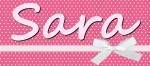 Sara Patterson has been blogging since 2007, but took a break for a couple years to tackle the world of news. She was the Social Media Director for a Houston based market 10 news station for over 2 years, but decided it was time to go back to her roots as a parenting blogger so she can spend more time with her family. She has now become an independent social media consultant for a variety of clients such as Hunger Free Texans and Downtown Galveston. Follow her personal Twitter account
@SocialNewsSara,
blogging account
@Family_Appeal
.
Latest posts by Sara Patterson (see all)