Last night, around 6:00pm, we lost power to our home due to a storm that blew through. It didn't come on till 4:00 this morning. I don't have to tell most of you girls how stressful it was to me. The kids hadn't had dinner yet, it's stinkin' hot and humid in the house, everyone is screaming, at first, because it's dark and loud.. Thunder Loud. I'm frantically trying to find flashlights, candles, and my cell phone all the while Zach is screaming, Rudy is crying because he fell off my bed onto the hardwood floor, head first (due to Abby helping him on.. she thought she was being sweet), and my nerves are shot!
The thing is.. after a few minutes the kids were fine. I, however, was not. I'm stressed out beyond imagination thinking:
What am I going to feed them in the morning?
What if Rudy wakes up.. he's usually miserable if he's hot.
The trash. I need to take out the trash.
It's hot I can't sleep.
I wonder how the kids are? Hot? Cold? Hungry?
When the lights came back I instantly woke up. Nobody else did even though every light in the house was on. The morning went well and they didn't seem to even remember the night from Thunderstorm Hell.
I happily made a big, late breakfast. We enjoyed lots of coffee and Wii time. I enjoyed checking my email. You know this girl starts having withdrawals without Blogs and Email! I gotta have me some Internet! And then two things put a smile on my face today..and my stresses left me!
Here's the first one that made me laugh beyond measure…Rudy apparently believes he must live amongst the Barbies:

The second smile maker is from my sweet Tina. My Good Mail group's primary focus is to send each other "Good Mail" so that we can actually get sweet stuff in our mailbox instead of those horrible increasing electric bills or yet another piece of junk mail. Good Mail it was… especially after the night I had last night. Thanks Tina!!!!! Check it out: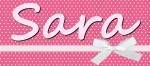 Sara Patterson has been blogging since 2007, but took a break for a couple years to tackle the world of news. She was the Social Media Director for a Houston based market 10 news station for over 2 years, but decided it was time to go back to her roots as a parenting blogger so she can spend more time with her family. She has now become an independent social media consultant for a variety of clients such as Hunger Free Texans and Downtown Galveston. Follow her personal Twitter account
@SocialNewsSara,
blogging account
@Family_Appeal
.
Latest posts by Sara Patterson (see all)