I can hear Jean Stockdale now with her cute southern twang.
"Beloved, cover yourself in Christian fellowship. Build that circle of friendship with Godly, like minded, Mommas."
Jean, you are so right. I did. I built that circle and I loved every minute of it, but it's gone. How do you re-build it? How do you re-build that circle, miles and miles away from the place you felt covered in God's grace? Miles away from the place you called home for the last 3 years? Miles away from the Mommas you met, you laughed with, you cried with, you went crazy with, you let into your life and gave a huge piece of your heart to?
I'm struggling. I'm struggling to re-build. Almost as if a storm ripped through this Momma. I'm far away from my Memphis comfort and as I meet new people I can't help, but compare. Compare them to the wonderfulness of the giving women I knew.
Awhile back, I stepped out into the flesh and let my husband know how I felt about this move and his job. I can't meet new people because I'm constantly playing Mom with no time or energy to converse with adults except him and even then his time and energy isn't there. He finally told me with a pure heart, "Honey, it's not my job. It's not our search for a church. It's not the kids or the neighborhood. It's you. YOU are the reason you haven't made friends yet."
*GASPS* How dare he! How inconsiderate! How can he tell his OWN wife things like that?! My heart sank because I realized it must have taken A LOT of courage for him to tell me the truth. The truth hurts. He's right in every sense. I haven't let anyone in, mainly because I miss them. I miss my friends back home.. the ones who showed me how to be generous.. the ones that showed me how to be less rigid.. the ones who helped me to embrace the Grace given to me by God.. the ones who love chocolate and the Bible all the same. I miss them.
I've met plenty of women out here, some Christian, some Non-Christian, some borderline..not sure. The problem I'm having is: when you are surrounded mostly by the Non-Christian or borderlines… What do you do? I've learned to be accepting, but how do you become friends with someone who's belief in God is so far from your own? Do you? In my little Momma heart, I think so. I love this saying:
"Live in such a way that those who know you, but don't know God will come to know God because they know you."
Amazing isn't it? That I can lead others to the Lord, not by my words, but by the way I live. A good friend of mine.. (Ok Ok I'll say it.. Kevin) likes to tell me one of his favorite sayings (I'm sure I'm about to butcher every word of it, don't laugh):
Share the Gospel with others, and if
necessary use words
. Just live your life out for Christ and others will see it and want to know how to get that.. get "that".. that "umph" you have when you're around others.
I guess, I'm just in a place where I hear God telling me, "Sara, YOU are the one leading this circle now." It scares me to death because I've never been a leader of any kind and I don't think I'm worthy of showing other women the love I was shown when I met my "circle".
As I look at the difficulties of re-building, I've come to the realization that I'm done. I'm done looking at the loss of the friends God gave me for a short time and I'm ready to accept the ones he is placing in my life now.. be it Christians or Non-Christians.. as long as they accept me knowing He is the leader of my life.
**Note** I didn't LOSE my friends back home. They will always hold a place in my heart as I hope I do in theirs. Our phone conversations and emails will always carry me back to the times we shared at parks, Bible Study, lunch, and every other place we made an excuse to go to just to be around eachother.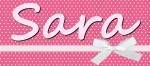 Sara Patterson has been blogging since 2007, but took a break for a couple years to tackle the world of news. She was the Social Media Director for a Houston based market 10 news station for over 2 years, but decided it was time to go back to her roots as a parenting blogger so she can spend more time with her family. She has now become an independent social media consultant for a variety of clients such as Hunger Free Texans and Downtown Galveston. Follow her personal Twitter account
@SocialNewsSara,
blogging account
@Family_Appeal
.
Latest posts by Sara Patterson (see all)