It's a beautiful day at the park. Rudy has just now begun to climb, slide, and explore on his own. As I breath it all in, my daughter runs to me yelling, "Mom! He's cheating! He's cheating on you!" Oh my! Who?! How?! Apparently, she found a little boy to play with. They were playing a Super Hero game of some kind. She was Iron Girl and he was, you guessed it, Iron Man. Somehow, he wasn't following the rules they agreed on and she came running to me yelling words no woman wants to hear.
He's cheating on you
.
If that wasn't bad enough, the next morning "he" broke my heart. Yes, the heart that was all smiles at the park was broken into tiny little Syrup-Covered-Bisquick pieces. You see, I made pancakes for the kids that morning and at an attempt to be The Best Mommy in the World I made a heart shaped pancake, put it in the middle surrounded by cut up pieces.. my little rays of sunshine. They were heart themed sun pancakes.. Aren't I sweet? I thought so.. until I hear this:
Abby: Mom! He broke your heart!
Zach: Yes! Yes I did. I broke it and chewed it and it was GOOD! You shouldn't leave your heart just laying around on plates Mom!
As I mourn my broken heart, this morning Abby decided to be Sassy, Demanding, and Bossy. As soon as my feet touched the floor from my heavenly bed, she was all words and they went a little something like this:
Do this for me!
Don't do that!
I don't like that!
Give it to me now!
I'm not eating that!
Make this!
Put me on the counter!
Take me to the store for Pop Tarts!
I had it! I finally tell her, "Abby, I am NOT your slave! I am your Mother. You don't tell me what to do, how to do it, or when to do it! I'm tired of your Sass and it's going to stop right now! Do you understand?" With a look of innocence and a smirky smile she says, "Mom. I don't even know what a slave is."
*Throws hands in the air* I give up. Oh, the cruelty my heart goes through each day with these children. Broken hearts, cheating escapades, and slave owning. It's funny how my children break my heart and I love them that much more with the tiny little pieces.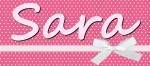 Sara Patterson has been blogging since 2007, but took a break for a couple years to tackle the world of news. She was the Social Media Director for a Houston based market 10 news station for over 2 years, but decided it was time to go back to her roots as a parenting blogger so she can spend more time with her family. She has now become an independent social media consultant for a variety of clients such as Hunger Free Texans and Downtown Galveston. Follow her personal Twitter account
@SocialNewsSara,
blogging account
@Family_Appeal
.
Latest posts by Sara Patterson (see all)