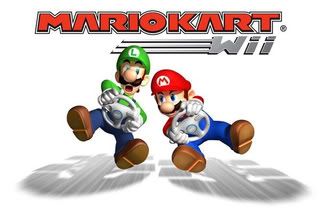 I'm not much of a gamer by any stretch of the imagination. My husband eagerly awaited the release of
Mario Kart
for our Wii sytem. In preperation, we downloaded the old Mario Kart with our Wii points and played. Practice makes perfect right? Not so much, because playing with the classic controller then having to convert to the
Wii Wheel
is a crazy experience in itself!
The game comes with an actual wheel you steer in the air. You can choose your character, your vehicle, and either Automatic or Manual. If you know me, I have YET to choose manual. There are ways to unlock more characters, more vechicles, and more courses! It got so intense, we went to Gamestop and bought the Mario Kart Strategy Guide to figure all this out. Wanna know the COOLEST feature though? You can play your friends and family online! Yeah, we've been playing my brother, sister, and nephew in Texas! We're in North Carolina! It's amazing and the gamer, that I am not, is really excited!
In fact, this is my second post about this amazing form of entertainment. Check out what else I had to say about it here.
The Bottom Line:
Price: Reasonable for a Wii Game 49.99
Functionality: Time consuming fun
Kids: Approve over and over
Momma: Approves
Sara Patterson has been blogging since 2007, but took a break for a couple years to tackle the world of news. She was the Social Media Director for a Houston based market 10 news station for over 2 years, but decided it was time to go back to her roots as a parenting blogger so she can spend more time with her family. She has now become an independent social media consultant for a variety of clients such as Hunger Free Texans and Downtown Galveston. Follow her personal Twitter account
@SocialNewsSara,
blogging account
@Family_Appeal
.
Latest posts by Sara Patterson (see all)