Arlight, not sure how this Meme thing really works, but I was tagged my Tina.
An *A*B*C* Meme
A- Attached or Single? Happily attached
B- Best Friend? male: Brian female: Christina
C- Chocolate or Vanilla? Duh, I'm female. Chocolate!
D- Day of Choice? I like Thursdays, trash day, eager to finish laundry day
E- Essential Item? Toilet Paper
F- Frazier or Friends? Friends.. Could I BE any more sure? lol
G- Gummy bears or worms? All about the bears, man!
H- Hometown? Baytown, TX
I- Favorite Indulgence? Venti White Chocolate Mocha (Iced in the Summer)
J- January or July? July, Funnel Cake and Fireworks for the 4th!
K- Kids? Three: Zach 5yrs, Abby 4yrs, Rudy 15mos
L- Life isn't complete without? God, My husband, My children, Family, and friends
M-Marriage date? March 10th 2001
N- Number of brothers and sisters? 2 brothers (one older, one younger) 1 Sister (older)
O- Oranges or apples? Oranges
P- Phobia or fears? Drowning, Heights, and driving in the rain
Q- Quote? "Live in such a way that the people who know you, but don't know God, will come to know God because they know you." -I've heard this a million places
R- Reasons to smile? The hand on the weight scale pointing lower than usual
S- Season of choice? Fall
T- Tag 2 people: Andrea and I don't know any others.. I don't have many bloggy friends.. feel sorry for me yet?
U- Unknown facts about me? I set my alarm or microwave cook time for odd numbers like 5:27 & I have a heart shaped discoloration of my skin on my back.
V- Vegetable? Green Beans
W- Worst habit? Biting my fingernails, compulsively twirling my hair and tugging my ears when I'm nervous
X- X-ray or ultrasound? I've had both, but ultrasounds are more joyous, Amen??
Y- Your favorite food? French Fries.. they should be their own food group like: Food that automatically sticks to your butt group
Z- Zodiac sign? Aries, but what does that mean anyway?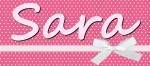 Sara Patterson has been blogging since 2007, but took a break for a couple years to tackle the world of news. She was the Social Media Director for a Houston based market 10 news station for over 2 years, but decided it was time to go back to her roots as a parenting blogger so she can spend more time with her family. She has now become an independent social media consultant for a variety of clients such as Hunger Free Texans and Downtown Galveston. Follow her personal Twitter account
@SocialNewsSara,
blogging account
@Family_Appeal
.
Latest posts by Sara Patterson (see all)