So, tonight I'm WAY excited! It sounds so trivial, but we've got some fun planned! We're going to give Rudy an early dinner and bath. He'll head to bed around 7:00 in which the other two kids and I are going to cook up a big heaping platter of Nachos Bell Grande! Yeah, just like my Mom makes! Chips, Cheese dip, lettuce, tomato, ground beef, jalapenos. I can taste it already.
Then we'll enjoy our scrumptious meal in front of the big screen for Enchanted. Yes, my kids are dying to see this movie and I couldn't bring myself to pay 19.99 for it. I know it's on sale at Target for 15.99, but we haven't even seen it to decide if we like it. SO, we're renting it On-Demand. Good laughs and Good movies.. my kind of night!
I recently joined a really sweet group called Good Mail. We get tons of mail daily, some of it junk, some of it bills, and some of it… well.. more junk. It's always nice to get Good Mail every once in a while, right? Well………………. I did! So excited! Thanks Yvette! I love 'em! Go check out this girl's blog… she cracks me up!
My Good Mail Revealed: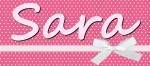 Sara Patterson has been blogging since 2007, but took a break for a couple years to tackle the world of news. She was the Social Media Director for a Houston based market 10 news station for over 2 years, but decided it was time to go back to her roots as a parenting blogger so she can spend more time with her family. She has now become an independent social media consultant for a variety of clients such as Hunger Free Texans and Downtown Galveston. Follow her personal Twitter account
@SocialNewsSara,
blogging account
@Family_Appeal
.
Latest posts by Sara Patterson (see all)