This is my morning:
Woke up at 5:30 to get Zach ready for school, fed him, laughed with him, but was clearly agitated at the early morning hours. Walked with him to the bus stop came home and passed out on my bed because the other two were still sleeping.
BFF calls-
Me: Let me call you back later
BFF: Why?!
Me: Because I'm still sleeping
BFF: I was calling to let you know that Steven Curtis Chapman's daughter died last night.
Me: That's horrible!
BFF: Call me later
Me: Okay, bye
Abby (who was in bed with me because of a nightmare): What's horrible Mom?
Me: You know that Cinderella song you like on the "God" radio station (she calls it that)?
Abby: Yeah
Me: Well, the guy that sings that song.. his daughter died last night.
Abby: Do they live here in North Carolina?
Me: No, honey. I think they live in TN
Abby: I wish they lived here, then we can bring them food or flowers or toys.
Me: Well, we can do something BETTER
Abby: What?
Me: We can pray for them
We didn't know all the details yet, but my 4 year old daughter and I prayed right then, in my bed, for the Chapman family. I held her a little closer this morning, ran to my son's crib as soon as I heard his coo's, and then felt convicted for being in a crabby mood with Zach this morning. I count down the hours till he gets home so I can love on him. I feel the need to hold my little ones a little closer today.
For those who don't know, Steven Curtis Chapman is a wonderful Christian music artist. I know his family is hurting and I'm lifting them up today. We don't know you personally, but your music has touched all of us and our prayers are with you as you endure this tragedy.
More details here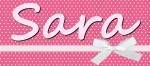 My plan was to blog about my awesome Good Mail I received, but felt led to write this instead. Tomorrow you'll here about it!
Sara Patterson has been blogging since 2007, but took a break for a couple years to tackle the world of news. She was the Social Media Director for a Houston based market 10 news station for over 2 years, but decided it was time to go back to her roots as a parenting blogger so she can spend more time with her family. She has now become an independent social media consultant for a variety of clients such as Hunger Free Texans and Downtown Galveston. Follow her personal Twitter account
@SocialNewsSara,
blogging account
@Family_Appeal
.
Latest posts by Sara Patterson (see all)