For all you Sex and the City fans, do you remember the scene where Carrie is laying on her bed opening her mail? She finds a Thank You note from Big's ex. It was telling her how sorry she was that she wasn't at the brunch, and thanking her for attending. As Carrie reads on, she comes to the end and finds that the word "You're" was spelled "Your". OH GOODNESS! A quick call to Miranda is needed to laugh about this Faux Pas.
That scene comes to mind every time I read an email, blog, or card that misspells "You are". Not only that, there are common misspelled words in the English language that lead me to laughing tears when I'm trying to spell them. One example (don't judge me), Relieve, Believe.. I have to recite that ole' rule you learn in school, I before E except after C. How about Write and Right? Sometimes I type so fast that I inadvertently insert the wrong one. Do you know that another common word misspelled is misspelled? Two S's people! How embarrassing to misspell the name of the problem! Hee hee hee!
When you're writing something crazy important you use spell check right? If you're writing on paper you probably MAKE SURE it's spelled right, right? Am I the only one that does this? Probably not. When is it okay not to be Admiral Strict on spelling? I think it's when your emotions are at extremes. You are either REALLY angry, sad, or jealous OR you are really happy, loved, and excited!
Here's a perfect example:
I Love you
veree veree much.
You mace (make) my favorit
lunch. I hope
evree body
loves you to.
The words on my Mother's Day card from Zach. Isn't it amazing how a misspelled word can touch you?! I see the emotion behind the sweetly jumbled up letters and I just hold them dear to my heart.
Next time you're writing and you just feel incredibly moved by your emotions you'll catch yourself misspelling words I bet! Just make sure you get their name right. A floating h at the end of my name would probably result in a phone call to My Miranda for a good laugh of the day!
Happy Spelling!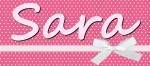 Sara Patterson has been blogging since 2007, but took a break for a couple years to tackle the world of news. She was the Social Media Director for a Houston based market 10 news station for over 2 years, but decided it was time to go back to her roots as a parenting blogger so she can spend more time with her family. She has now become an independent social media consultant for a variety of clients such as Hunger Free Texans and Downtown Galveston. Follow her personal Twitter account
@SocialNewsSara,
blogging account
@Family_Appeal
.
Latest posts by Sara Patterson (see all)