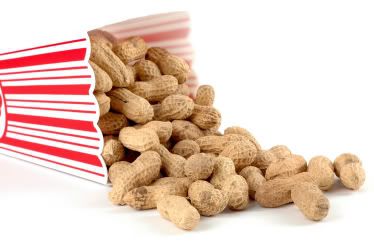 It's a day in the life of a Momma. After running a very slow 3 miles on the treadmill, going to the grocery store, taking back library books, doing a few loads of laundry, making lunch, and doing yoga with Abby I finally had time to relax mentally. I was in the process of marinating dinner, doing dishes, and folding laundry. I even thought I had enough time to sew Brian's pants like he asked me to a million moons ago. Zach arrives home from school and I thought we would enjoy a snack of bananas and Ritz Peanut Butter crackers. What do I see 10 minutes later? Rudy. His face. It's swollen, red, and splotchy. I can barely see his little eyes from the puffiness. I quickly call the Dr. who told me to rush him to the ER. You've never seen a Momma move so quickly, but it's tricky. My 4 and 5 year old aren't as fast. I'm barking out orders, "Get your shoes on! Pee faster! Grab my purse! No, there's no time to find your MP3 players!! LET'S GO! It's an emergency!" I turned to my sweet 1 year old who is drinking juice and looking at us like we're nuts because he is feeling fine. Really, this little child is playing, jumping, laughing as if his face has always been this swollen!
It's peanut allergies. The Dr. says it would have been a lot worse had I waited, but Benadryl and the steroids they gave him brought the swelling down and shut it out. What a relief! Now comes the hard part.
I have to take him in to get Allergy tested. We need to moderate his food. We need to alert caretakers at church. We need to (well don't need to, but want to) order those cute little bracelets that go around baby bottles, sippy cups, or wrists that say, "Don't feed me nuts" Yes Folks, I am cheesy like that. They have T-Shirts too! 🙂
This incident made me feel awful. I know it's not my fault and there isn't anything I could have done to prevent it. I know this! It doesn't make me feel any better though. Do you ever feel like a failure as a mother when things like this happen? Even when we found out Zach had OCD that failure feeling crept on my skin slowly. Or when I wrote Zach's teacher asking, "What is going on Thursday night at school. Zach keeps talking about it, but I never got a note or anything. Please explain." I never got a note because they personally called all the parents.. I deleted it off my cell thinking it was a reminder about PTA. Ugh! Pay Attention Failure as a Mother Sara!!
Seriously though, I was reading a blog (that is hilarious and I'll write more about it later) and it mentions kids television shows and Veggie Tales came up. Someone commented saying, "I felt like a failure as a mother because my children hate Veggietales." Amen Sista! I felt that way too when Zach admitted to me he couldn't stand Bob and Larry. COULDN'T STAND BOB AND LARRY?! Everyone loves those hilariously Bible knowing Veggies! Not my son. I was redeemed though when my daughter came along and became a Veggie-Aholic. Whew! I'm BACK IN God!
But all jokes aside here, what do you do with failure? What do you do with failure you can't control? I've learned it's a defeat we have to accept. In our (or mine at least) sweet little Christian minds we know we can't win over sin. We can't ever accomplish for ourselves or anyone else what Jesus Christ did for us on the cross. The answer to failure is His Grace. Take that dose of grace and let it be your heart medication. Let it be what helps the swelling of your sin, your hurt, your emotions, your mind.
Sara Patterson has been blogging since 2007, but took a break for a couple years to tackle the world of news. She was the Social Media Director for a Houston based market 10 news station for over 2 years, but decided it was time to go back to her roots as a parenting blogger so she can spend more time with her family. She has now become an independent social media consultant for a variety of clients such as Hunger Free Texans and Downtown Galveston. Follow her personal Twitter account
@SocialNewsSara,
blogging account
@Family_Appeal
.
Latest posts by Sara Patterson (see all)