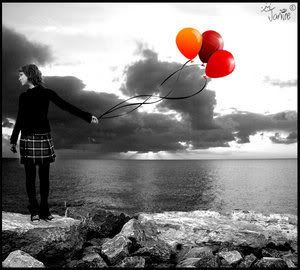 Our grocery store has balloons in the entry for the children. It never fails, the balloon bin is always full and ALWAYS has my children's favorite color. The deal is, "If you're on your best behavior you can get a balloon on the way out." I'm a big pushover mom so even if they did act up they usually get one. Zach is unique because EVERY TIME he gets a balloon as soon as we get out into the parking lot he lets it go, EVERY TIME! I think, "well that was a waste." He doesn't think so because in his sweet little heart he believes he is sending it to God and he enjoys doing it every time.
Last week we got a balloon and he was over anxious about sending it to God. As soon as we got out the door he let it go, but forgot about the overhang of the building! His balloon went straight up to the outside covering and didn't go to God like he intended. If you know my child you know it upset him. He is very sensitive and emotional. Most would say he is a Momma's Boy.
I take that lightly because I'm the Momma and he's the Boy and I like it. Just yesterday I went to make my bed. I turned on the stereo in the bedroom and was rockin' out as I did this. After it was made with fresh sheets I couldn't resist laying on it. He was passing my room as I did this and ran as fast as he could, jumped onto the bed, and wrapped his little arms around me. I'm inhaling it all in, I love it! He then says, "Mom, I love you. You're the best Mom God could ever give me." He then proceeded to tell me that he will be turning six soon and in another year 7, and another year 8 and so on and so forth. As he lay in my arms twirling my hair I told him that he'll get older and think I'm boring. He'll have tons of cool friends and he won't want to hang out with me like this. He gets really serious, puts his hands on my cheeks and say, "Mom. I am NEVER going to say that. You're my girl!"
*AH* I had to breath it all in because the day will come when I have to let him go just like he does with his grocery store balloons. But not yet.
Sara Patterson has been blogging since 2007, but took a break for a couple years to tackle the world of news. She was the Social Media Director for a Houston based market 10 news station for over 2 years, but decided it was time to go back to her roots as a parenting blogger so she can spend more time with her family. She has now become an independent social media consultant for a variety of clients such as Hunger Free Texans and Downtown Galveston. Follow her personal Twitter account
@SocialNewsSara,
blogging account
@Family_Appeal
.
Latest posts by Sara Patterson (see all)